I think I've turned over a new leaf–or perhaps I've just hit a stroke of luck. Whatever it is, I mean to say, that I had a really good reading month. With these long, dark, winter nights, my favorite thing to do is curl up with a fluffy blanket, or sit beside the fireplace and read. I don't know why, but reading in the winter makes me feel like the heroine in a Brontë novel, or some other classic work of literature. I wonder if anyone else feels like that? Back in my hay-day as a teen, reading was pretty much all I did, so I flew through most books. In more recent years, my reading habits have changed quite drastically. But this month, I read a book a week, which is more than I've read in a really long time. Some of the books I read were real gems, so I thought I'd share them with you.
1. Spin the Dawn, by Elizabeth Lim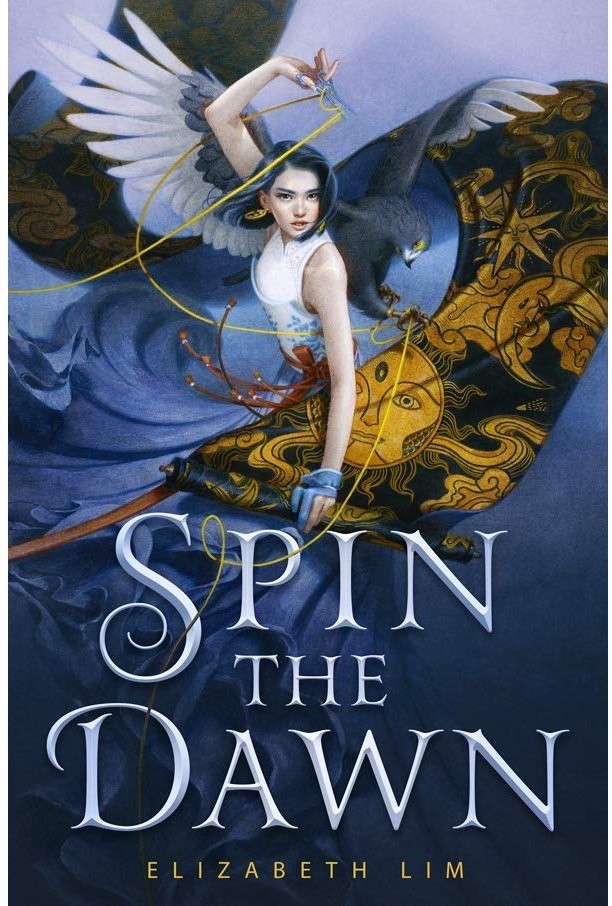 This story is a little reminiscent of Mulan, but with a lot more magic. When the Emperor holds a competition to find a new imperial tailor, to create a dress for his bride to be, Maia, must go to the palace in place of her father. Women aren't allowed to be tailor's, so Maia, must go in disguise in order to prove her skills. But that's just the beginning of her story. Soon, strange enchantments, and a nearly impossible request pushes Maia to the limits of her strength, yet she doesn't back down. With the help of a mysterious enchanter, she achieves the impossible to protect her own life, and her family's–but it comes at a great cost.
This book was a Christmas gift, and my first official read for 2022. I was really happy that this story lived up to my expectations, and I enjoyed immersing myself is this new world. This story read like an old legend, or a classic fairy tale, and the way it flowed was great. The setting, and characters felt a lot different from most current fantasy YA novels, so it was a refreshing read.
5/5 stars
2. Calculated, by Nova McBee
This story follows a teenage math genius–a prodigy. After graduating with a PhD at age fifteen, Josephine Rivers signs up for a special program in China where gifted teens like her can put their skills to use. But on the day she is set to leave for home, she is kidnapped. Everything Josephine has ever known, or dreamed of, is crushed–except for her special gift. This gift is the only thing that keeps her alive, but it becomes exploited when dark forces use her for their evil schemes. Josephine is tossed from one nightmare to another, until everything changes, and she is presented with an opportunity to undo the harm she helped create. Beginning in Seattle, this story takes you to a secret prison, and gang hideout in China, to the lux high-rises of Shanghai.
This book has been on my TBR for a long time, and I was glad to finally cross it off. This story dealt with the extreme reality of smuggling, and millionaires, and the world they live in. My mind was completely blown when I realized the story was a re-telling of the life of Joseph, and how God turned his kidnapping, and terrible circumstances into something that would change the entire course of history. This story kept me thinking about it for days after I had finished it, and it's one I think I'll always remember.
5/5 stars
3. 100 Days of Sunlight, by Abbie Emmons
After a car accident with a drunk driver, Tessa's whole world is upended as she loses her sight from a brain injury. The doctors tell her the condition is temporary, but the struggle to come to terms with her trauma is almost too much to bear. That's when Weston, a boy with his own skeleton in the closet, makes it his mission to help Tessa face the reality that there is so much more to life than merely–sight.
This is another book that has been on my TBR for a while. I borrowed the audio-book version of this story from the library, and I really enjoyed it because the author herself, did the recording. This is a feel-good, contemporary novel that shows you that there can be joy in life, even in the midst of darkness. It was nice to read a lighter story, in between some of the heavier books I've been reading.
4/5 stars
4. What Lives in the Woods, by Lindsay Currie
Ginny Anderson's summer plans are ruined, when her parents tell her that they are going to spend a month in an old mansion that her father has been hired to renovate. She's not happy when they arrive at the creepy old place, but soon, things get even worse. Ginny begins to experience strange events, and see disturbing apparitions throughout the house. With the help of her brother, and a boy from town, Ginny is determined to get to the bottom of the mystery, and end their stay at the mansion.
This is a middle-grade horror story that I wanted to read before I passed it on to a family member. It was a fun, spooky story, but nothing too scary. I liked the mystery surrounding the mansion, but I was underwhelmed by the character development, and story progression. I think a younger reader might enjoy it more than I did, but I was still a little disappointed.
3/5 stars
5. Every Bright and Broken Thing, by Brian McBride
This is the story of two brothers, and the tragedy that overtakes them after the death of their mother. Caught up in lies, and the pit of substance abuse, their lives are slowly destroyed. As things come to a breaking point–they have the chance to be redeemed, but will they take the chance?
I picked this book up on a whim, because I'd seen some good reviews on it and I needed something new to read. It deals with some very heavy topics, which was a little difficult to read at times. I have some mixed feelings about this novel, and while it did have a redemption arc in the end, it's not something I would recommend to just anyone. Overall, the writer did deliver a good story, with some powerful themes.
3/5 stars
And that's everything I read in January. Sometimes these dreary winter nights can feel a bit lonely, but with a good book for company, they become a lot less so.
So now I want to hear about your reading month.
What was your first read for 2022?
How many books did you get to?
Thanks for reading,
Lady S